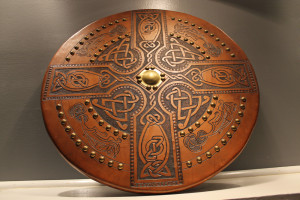 The Highland targe! Through CelticLeatherworks.com, it's the effort of Mike Pruette to keep alive the romance of the most well known defensive weapon a Highlander could carry. His targe. He fell in love with the first one that his eyes beheld. He decided right then and there that he would have one of his own. He did his initial research and discovered that Tandy Leather Company offers a free targe pattern on their web site. He gathered his material and tools and began building what would become the first of many works of art.
He began designing his own Celtic patterns and constructing original handcrafted Highland targes. Each one better than the last. The quality and richness of his designs continue to astound his friends and family with each new targe that he crafts.
In the words of an admirer of his targes, "These targes are Celtic imagery and art tooled on a leather canvas, combining Celtic art and olde world Highland charm to create heirloom quality shields."
As a student and lover of history, Mike has began researching extant targes and documents to find images and information so that future generations can enjoy and hold a piece of the past. He has plans to begin construction soon on several of the targes mentioned in James Drummond's "Highland Targets and Other Shields".
Some of the targes displayed on this web site are for sale and can be seen in the Targes For Sale section of the site. If you  are interested in purchasing one of these heirloom quality shields, please feel free to email Mike@CelticLeatherworks.com with questions about the targes.
For those of you who use facebook, you can follow all of his work at the www.facebook.com/CelticLeathers.